I was recently invited to participate in Share PDX, a creative get together where artists are brought together for a two hour period to explore a theme announced at the start of the evening. I was a little nervous, because the last two share prompts were Decay and Collapse, two themes which I sort of continuously explore musically and visually. I feared that my first prompt would be something like 'baby', of which I have not a lot to say. My baby well is not very deep.
Assuming the worst possible theme would probably happen, I brought what I considered a few good options to work with. I didn't want to be too exploratory and do something totally foreign, but was looking forward to trying some new techniques with my camera or perhaps with one of my synthesizers. Fortunately the theme was TRAP and I realized I was comfortable enough to do something really ambitious with it - make a music video in 2 hours. Here's what I came up with:
Writing the song
I began by allocating time - 45 minutes to writing 90 seconds of audio, 30 mins to film a series of shots, 30 mins to edit, and 15 mins to render. Anyone who's worked with video will tell you that's a pretty ambitious goal. Video can be really time consuming. I began immediately by setting up my keyboard. I nearly vomited in disgust when I realized I had forgotten the most important component to making music: my audio cables. I had a firewire interface, midi cables, headphones, extension cables, a midibox and an alesis andromeda. All of this equipment is pretty much moot without audio cables, because even if you create something amazing, there's no way to record it to your computer without audio cables. I quickly realized I'd have to use logic's built in instruments, something I really despise because they sound so much colder than my analog andromeda, which is the finest, most expressive instrument I've ever had the joy of playing. But time was ticking down, so I gave myself 2 mins to find two presets that could work together, and began playing the chord progression.
45 minutes later, I had a song. Well, I had about 90 seconds of audio that I found interesting to listen to. I would call it maybe the start of a song. It needed a stronger melody, some strings and big analog sounds. Perhaps it was more of a texture than anything else, and although I wanted to keep tweaking, I knew I had to move on to be finished in time. There's only 75 mins left to shoot and edit a music video!
Filming the video
The filming went quite well. Equipment wise, I had my Canon 5D Mark II on a tripod and a LED light source that's surprisingly bright. I would frame the shot, hit record, move into position and act it out. I did only two takes of every shot, knowing that I didn't have a lot of time. Many of the shots I would only call passable, but knowing how there was exactly zero prep work, I'm pretty proud of them. Normally I like to meticulously plan shots out, do at least 5 takes, and really think about each shot. Part of my reluctance towards working with actors is how much I'll probably annoy them by my incredibly lengthy contemplative silences. Making a music video in two hours is much more about following your gut than planning.
The editing was very minimal. I used premiere to line up my shots and opted to not do any color correction or even cropping of the video for fear of taxing the processor during render which might make me miss my deadline. As such, it's pretty rough, and the actual video-component of the music video is only about half the length of the song. There is ample dead space which would be the first thing I would fix had I more time. Sorry about that. Stick around for the credits the typography will blow your mind.
That said, I'm pretty proud of the last shot (going into the bottle). My tripod doesn't really have anything designed to 'move' the camera like that, but if I set it at it's lowest position, focus on the bottle with a super small f-stop, and slowly lift the camera, the shot can be reversed to make it look like it's on something like a track that descends into the bottle. I'm proud of that shot because the time between conception and execution was about three seconds. It's the little wins that keep me going.
What I'm most proud of is the feeling of the video. A few people commented how it felt very isolatory, although the truth is that there were many people moving around the room. Part of that's probably luck, but hearing how well it worked made me feel like I must be getting better as a director. I believe I captured how I feel when I am trapped - alone and tense, so I call it a successful first Share.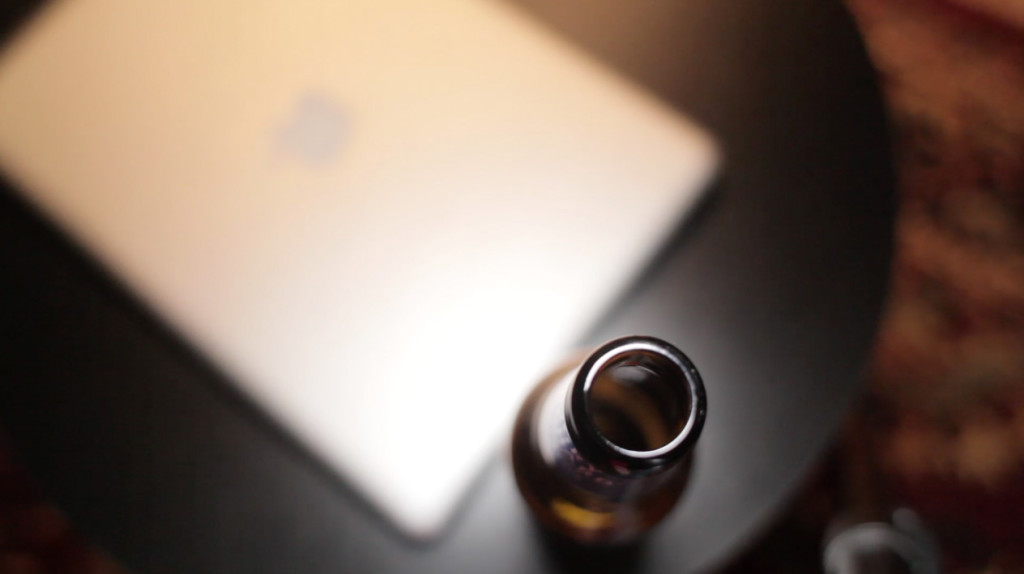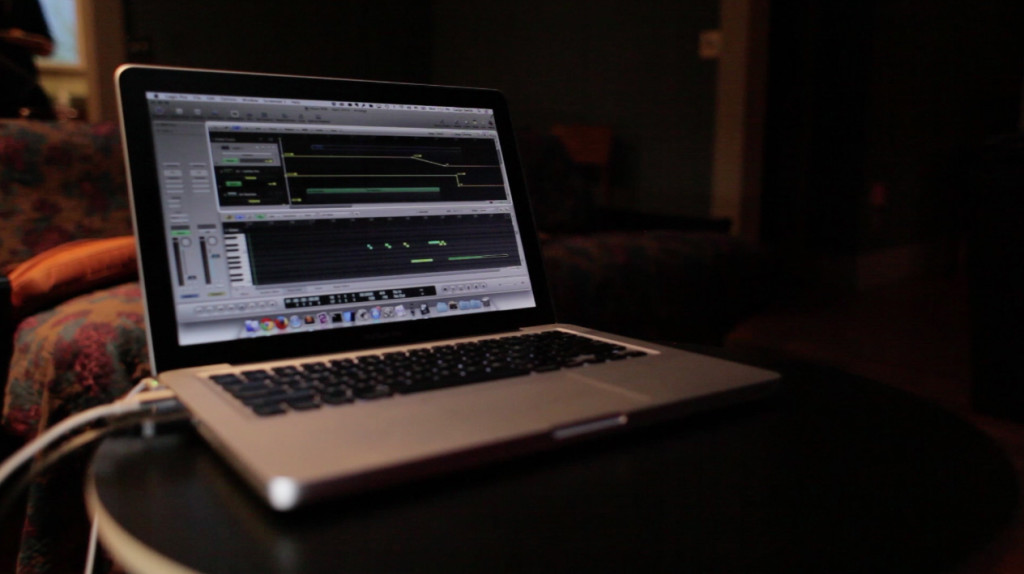 Can't wait for the next one!